DÜCHTING POS SYSTEM.
 GOOD CHECKOUT.   
GOOD CLEANING.
The Caesar POS system is a multifunctional industry software for your textile cleaning company and is already being used successfully in more than 500 companies in Germany, Austria and Switzerland.
Proven in individual companies as well as in companies with several branches. In close cooperation with textile cleaners, we have developed the Caesar POS system to meet the special requirements of the textile cleaning industry.


 YOUR KEY BENEFITS

Law Compliant

Individual adaptation to your company

Fast familiarization

Easier handling




Diverse statistics




Customer loyalty through customer cards




Notification via SMS / E-mail / APP




Personal customer care




Possibility of convenient online administration




Ongoing optimization and updates



 

OPTIMUM CUSTOMIZED FUNCTIONS



Master Data Management

Invoicing

Wide range of evaluations

Support for customer cards




Remote maintenance support




Personal uncomplicated support




Ongoing optimization and updates





We would be happy to advise you!

  +49 2644 9979950
The Caesar³ POS system helps you in your daily work. It runs multi-functionally, confidently and efficiently. Currently in over 600 textile care companies in Germany, Austria, the Netherlands, Finland and Switzerland.
The Caesar POS system in connection with Automax M-Sort or M-Sort * 3S *, the Caesar POS system saves personnel costs and valuable working time.
The Caesar POS system creates order and helps you with planning, campaigns and customer care. The Caesar POS system is very easy to use.
The Caesar POS system is individually adaptable and gives you the necessary business overview at the push of a button.
Controls / peripherals: Barcode, customer display, magnetic card reader, keyboard, touchscreen, access control, RFID.
Reports / statistics: Article, evaluation, parts and product group reports, cash turnover, graphic analysis, hit list, credit turnover, customers each per day / week / month / year, open cash, commission settlement, hourly report, goods turnover, free period for settlements selectable.
Communication: Automax interface, back office, single-user solution, remote maintenance, branch operation with data transfer, multi-user solution, web interface.
Service: Advice, remote diagnosis, hotline, individual form adjustment, individual programming, installation & training, online maintenance, update and on-site service.
Base data: 9 product groups on the screen, 99 articles per article group, 999 article groups per product group, operator, employee, third party service provider, customer, supplier.
Standard cashier function: Pick-up date, pick-up time, repetition of receipt printing, receipt loss, color, error, completion notification, discount, customer management, m², quantity, subsequent payment, subsequent delivery, price, complaint, parts voucher, parts tracking.
Payment Methods: Cash, EC, voucher, credit card.
Additional features: Quotation articles, operator registration with authorization assignment, data backup internally and externally, detailed invoicing, invoicing, happy hour, electronic journal, label function, external work (continuous items), vouchers, main customers with sub-customers on delivery note and invoice, customer loyalty by using customer card, time recording , Delivery note customers, manager function, employee identification, personnel purchase, profit center with sub-customers, collective invoice, automatic notification of customers when the goods are finished by email, SMS or APP.
Free download of the My cleaning app for your customers from the app store or Google Play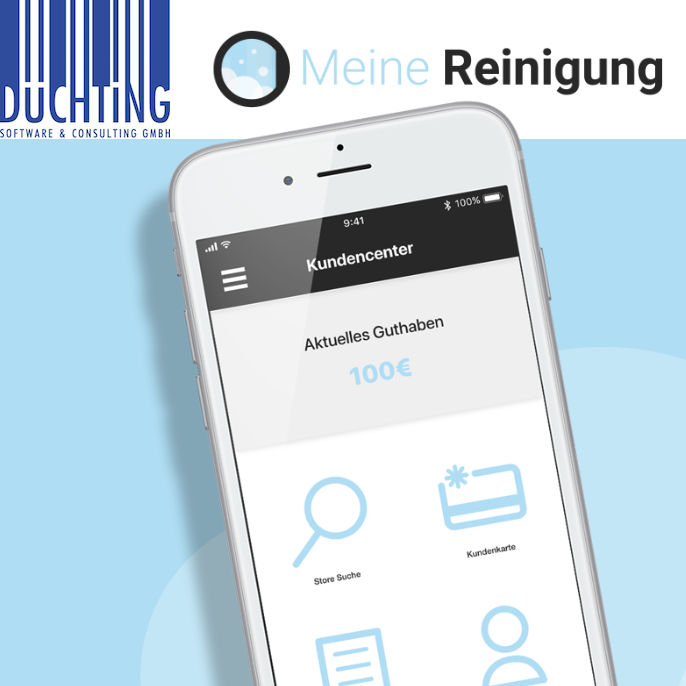 Discover the DÜCHTING software products: