DÜCHTING. AUTOMAX LOGISTICS SYSTEM®
 FLEXIBLE EXPANDABLE MODULES FOR AUTOMATIC TEXTILE SORTING.
Automax® is especially developed for quick, manual or automatic pre-sorting and final-sorting of your cleaned textiles.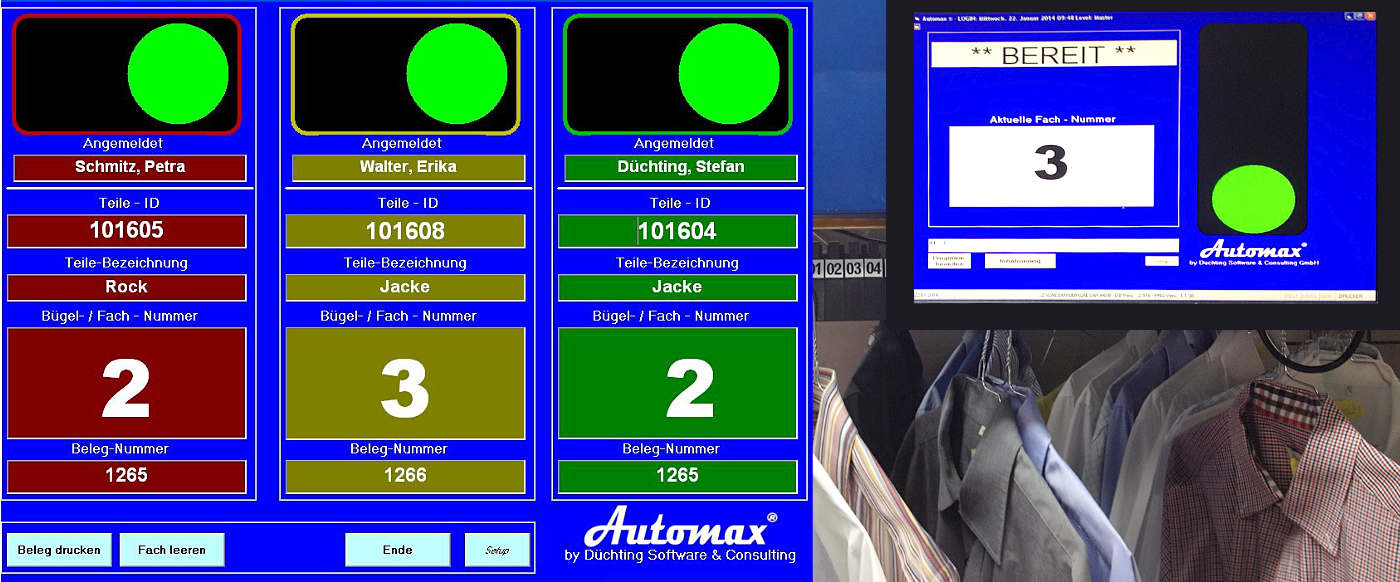 Automax® increases the speed of sorting your customer orders and enables the error-free compilation of your customer commissions. This ensures 100% that no "wrong part" sneaks into a customer order.
 

YOUR KEY BENEFITS



Individual adaptation to your company

Reduced personnel costs

Increased productivity

Fast familiarization




Easier handling




Personal customer care
We would be happy to advise you!

  +49 2644 9979950  
Automax® leads to the relief of your personnel costs, the improvement of work processes and increases the satisfaction of your customers.
Automax® M-Sort 3S is the further development of our successful Automax® M-Sort module.
Automax M-Sort 3s increases the productivity of your company by using multiple barcode scanners. Up to 3 employees can scan the items of clothing in parallel and hang them on the assigned pre-sorting places.
Due to the automatic registration and deregistration of the employees at the individual scanners, the tracking of the processing of your garments, as well as the evaluations according to the number of cleaned goods is only a push of a button for you.
Discover the DÜCHTING software products: